Aistear
What is quality practice in Childcare.
Quality practice in Childcare requires ongoing monitoring, development and review of the type of care being provided to the child.
The Early Years sector in Ireland is guided by frameworks, regulations and standards in order to set a minimum standard to the quality of care being received by children and their families. These include Siolta "the National Quality Framework", Aistear " the National Curriculum Framework" , the Child Care (pre-school) Regulations 2006, the National Standards for pre-school services and Children First Guidelines.
Further to this each Early Years setting operates as a business using their own policies and procedures, they also comply with good codes of governance and company law.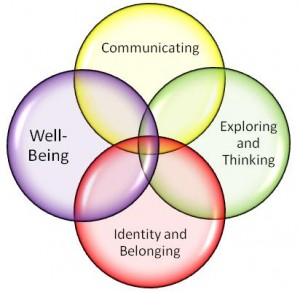 Aistear: The Early Childhood Curriculum Framework
'Aistear', is the new curriculum framework in early year's education. It is designed for children between birth and six years. Aistear was developed by the NCCA (National Council for Curriculum & Assessment) in partnership with the early childhood sector.
Aistear contains information for parents and practitioners that will help them plan for and provide challenging and enjoyable learning experiences that can enable all children to grow and develop as competent and confident learners in the context of loving relationships with others. Aistear describes the types of learning and development that are important for children in their early years, and offers ideas and suggestions on how these might be nurtured.
Aistear can be used in a range of settings, including children's own homes, child-minding settings, crèches, playgroups, pre-schools, naíonraí, and infant classes in primary and special schools.
What is in Aistear?
The Aistear framework is broken up into principles and themes, guidelines for good practice, user guide, key messages from research papers and learning experiences. The Aistear Website can be visited by clicking the following link Aistear website
Aistear is based on 12 principles of early learning and development. These are presented in three groups:
The first group concerns children and their lives in early childhood:
the child's uniqueness

equality and diversity

children as citizens
The second group concerns children's connections with others:
relationships

parents, family and community

the adult's role
The third group concerns how children learn and develop:
holistic learning and development

active learning

play and hands-on experiences

relevant and meaningful experiences

communication and language

the learning environment
Aistear uses four themes that connect and overlap with each other to outline children's learning and development. The themes are
Well-being

Identity and Belonging

Communicating

Exploring & thinking
The Aistear framework is broken up into principles and themes, guidelines for good practice, user guide, key messages from research papers and learning experiences. To view the Full framework for Aistear click on this Link