Accredited Qualifications
Accredited Qualifications
For further information in relation to  Early Years DCYA Recognized Qualifications for the purposes of meeting the minimum qualification requirement in the pending Early Years Regulations, please follow this link:  Qualifications
An accredited qualification is one which is recognized nationally and internationally as a quality assured award. In Ireland, all accredited awards can be mapped on the National Qualifications Framework, which is a 10 level framework.
National Framework for Qualifications (NFQ)
The National Framework for Qualifications was developed by Quality and Qualifications Ireland (www.qqi.ie). The NFQ provides a structure, a framework, by which all education and training can be included and compared. The 10 Levels capture all learning, from the very initial stages to the most advanced.  The 'fan diagram below 'illustrates the 10 levels and the 'Major Award types' accommodated in it.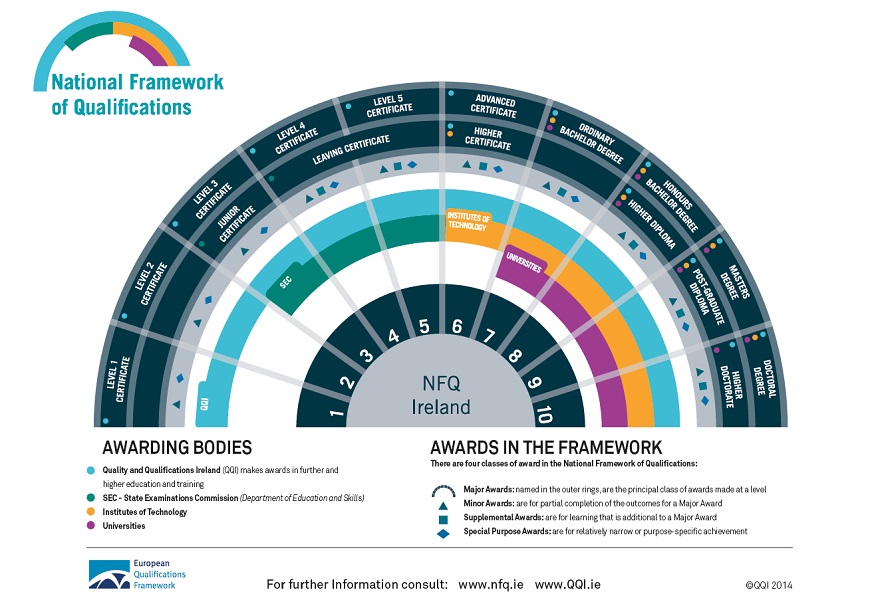 Awarding Bodies An awarding body has the legal authority to make an award in recognition of your learning and there are a number of these in Ireland who have had their qualifications included in the NFQ.
Awarding bodies include:
Quality and Qualifications Ireland (QQI) – the awarding body for all further education and training awards included in the NFQ from Levels 1 to 10.  A list of QQI recognised providers can be found on www.qqi.ie.
Institutes of Technology (IoT) operate to make awards under delegated authority at Levels 6 to 10 in the NFQ.
Dublin Institute of Technology (DIT) makes awards from Levels 6 to 10 in the NFQ
Universities make awards at Levels 7 to 10 on the NFQ.
Recognition of qualifications awarded in another country.
If you hold a foreign qualification and wish to place it into the context of the Irish qualifications system, you can refer to the NARIC Ireland Foreign Qualifications Database Here.
If a particular qualification is not included in the database, you can a contact qualadvice@qqi.ie for assistance.